The Lenkovs have been heard! Their story is finished and ready to share. I'll have much more to say about that later, but for now, check out the book!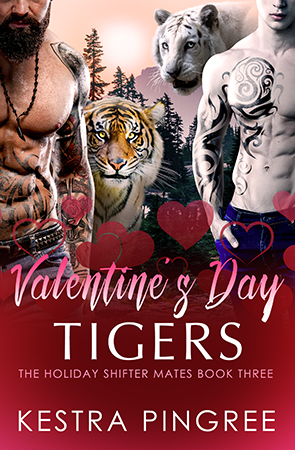 Siberian tiger shifters Yuri and Lance Lenkov are trouble.
The twins have been stuck in Alaska, living in a shifter haven, because a Black Magic curse made Yuri sick for years. White Magic has finally cured him.
Lance should be happy, but now he's worried for a different reason. If Yuri isn't sick, he'll leave and find himself a mate.
Lance has a secret he's told no one about, not even his twin brother.
He's in love with a musical, genderqueer beauty named Ash. Valentine's Day is coming up, and he wants to ask them to be his.
But he's afraid.
He can try to hide it all he wants, but when Ash inevitably finds out he's asexual, he's convinced they won't want him anymore.
Valentine's Day Tigers is a queer/LGBTQ paranormal shifter romance with its own kind of HEA(happily ever after). This book works as a standalone, but it is part of The Holiday Shifter Mates series. For the best reader experience, the books should be read in order.
***This is a sweet and steamy romance. It contains troublemaking twin tiger shifter brothers. One is asexual and the other is aromantic. It also contains a non-binary indie folk singer determined to make one of these tigers their mate. Get ready to have your heart stolen. Naughty language, intense scenes, and sexy times. For mature audiences only.